At Thread, we're smart enough to know what we don't know. As a company based in the good old USA, we're fully aware that the countries that our First Miles are located in are unfamiliar territory to us. There are a lot of cultural barriers that we might not understand and while we are constantly learning, it's in our best interest to invest in the source. That's why we have our Field Manager, Richardson, in Haiti to show us the ropes, connect with the people, and keep us updated on what's happening on the ground.
Now that Thread's First Mile has extended to Honduras, Richardson has a Honduran counterpart named Mario. Mario is our eyes and ears in Honduras and we talk to him on a daily basis to learn more about the collectors and the happenings in our newest First Mile. The First Mile is where the magic happens, and Mario helps track the magic, talk to the magic, and keep us updated on how we can help the magic. Read along to learn more about our very own Super Mario.
What exactly do you do at Thread?
I am the Honduras Field Manager. I represent Thread in my country and provide all the help I can to people who are in the First Mile of our supply chain. Getting to know them and trying to make them a part of the Thread family, letting them know that they have a dignified job, and that they play a huge role in helping the environment by recycling and also in the production of our fabrics from Ground to Good™.
Why did you decided to join Thread?
Before Thread I worked in a hotel as an Events Manager and Planner. I heard about the position through my old boss and started studying Thread's website. After reading some stories from the First Mile in Haiti, I was impressed by how many people they have helped and the magnitude of how they are working to make a change. In that exact moment I said to myself, "I want to be part of that company. I want to help Thread so that we can help others", even though I lived in another city. Like how we say it here "Dar mi granito de arena" to make a change.
What's the hardest part of your job?
Personally, the hardest part of my job was to move to another city and away from my family, but at the end of the day I know they support me and are happy for me. Professionally, I normally visit INVEMA, our main suppliers' facility, to interview First Mile collectors each week. In every interview, I let each collector know that I ask these questions to understand how we can help them. Sometimes I see these collectors again the next week and they ask me if I came back with solutions to their problems. In that moment, I can't do anything to help them on the spot, so for me that's the hardest part of my job.
What do you like most about your job?
What I like the most is hearing all kinds of stories. I like the way people open themselves up to let me know their stories just because I ask them. I think they like someone who they don't know asking about them, their lives, accomplishments, and failures. You can create a small connection when you take your time and just talk to them. Noticing how many people lives change from recycling even though they do it to make a living, knowing very little of the whole picture of helping the environment as well.
How has your experience been so far talking with the collectors?
The collectors are hardworking people and are happy with their jobs. Most of them had other jobs before this but decided to become collectors instead. They prefer the idea of being their own boss and working for themselves. They all know that the harder they work, the more opportunity they will create. So the collectors are very open to talk to and very happy to share their information and experiences with Thread.
How would you best describe yourself?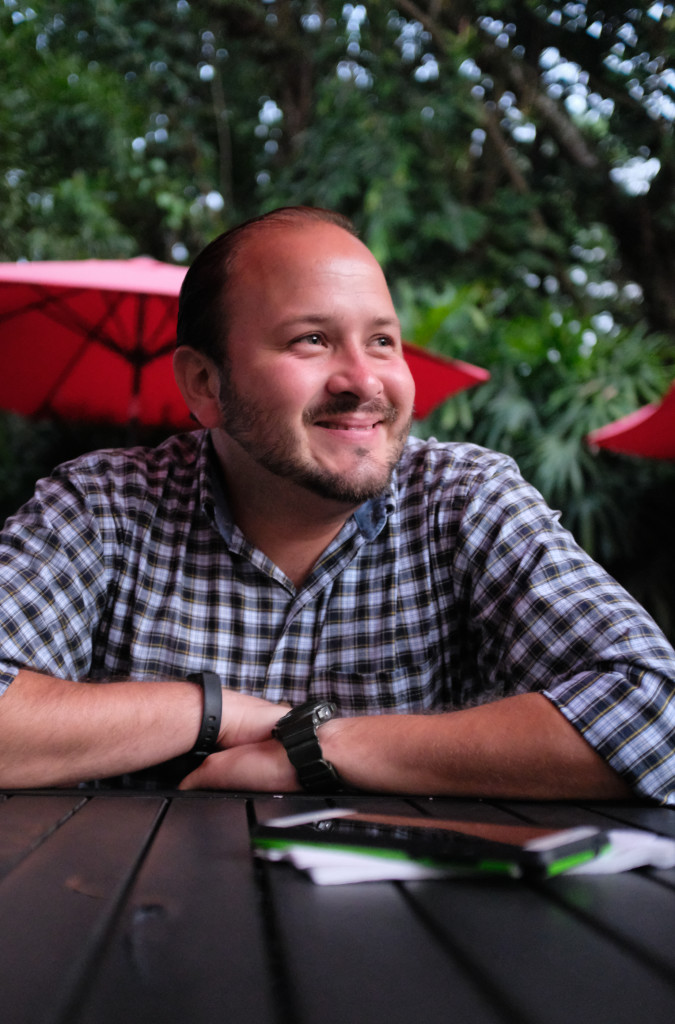 As someone who cares. When I heard Threads pitch, values and everything they did to help people and to help the environment it clicked with me. I've always wanted to make a change and trying to do it by myself it was difficult. It was amazing to know a group of people that have the same drive.
When people use or wear something made with Ground To Good that came out of Honduras, what do you want them to remember about the people that helped create it?
I want them to think of a man or woman, waking up everyday before dawn to make things happen for their family, and enjoying every step of the way because they knows their job will be appreciated.